Hi guys,
I wanted to write that thread for quite some days now, but didn't have much time in the last days.
I already noticed a few 'strange' things in airliner's news section latey like a few noticeable news missing whereas some basic stuff was getting the full fanfare, but this did really top everthing I've seen so far.
They really promoted in march 2018 (!!) a shot from june 2017 (!!!) saying a new livery for brazilian Carrier Gol. Not to say that the livery exisits since more than 2 years (!!!!). Here ist the proof (they deleted the banner in the meantime):

How can this happen? Even if someone doesn't have a great clue about Aviation, he should have realised upon seeing the date that there is something wrong.
But of course the ever professional facebook site went in-line with it: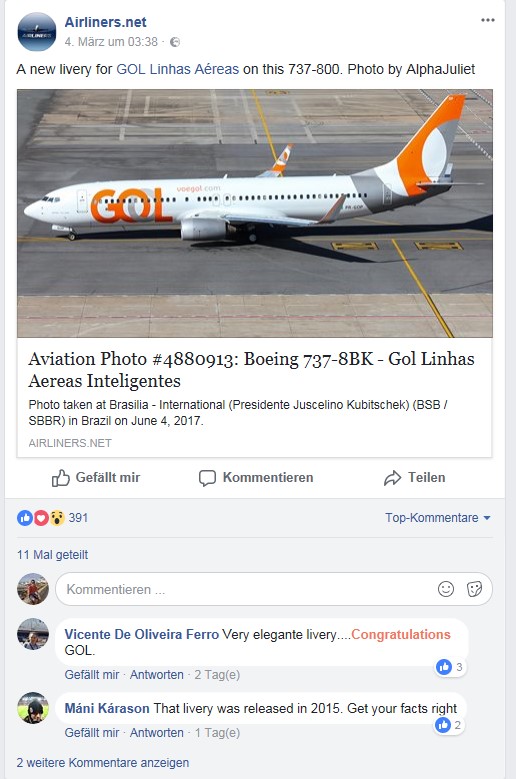 Unfortunately, this wasn't a one-off.
Other examples? Yes I have them..
Take this one:

?!?!
This is the second A350 for French Blue, that just dropped the "blue" out of the name and renamed the brand.
And they call it a new airline? Have they actually got any clue about aviation?
The photographer did put it right in his comment, don't they even read that? Again the facebook-site made a similar comment.
Then there is of course the fake-news Privatair as reported before, claiming this:

To be a new livery....
while sistership D-AWBB flew already in that 'livery' since more than 2 years

Not to say that non-screeners get such shots de-priorized for not being a real livery....
Of course it also got a facebook post...
On the other hand you see a first shot of an Air Canada 77L in the new cs or the TAP Retro neither getting a banner nor a post on social media.
Really without wanting to bash a.net, but could one handle the news-section even more arbitrary and amateur-ish?
Don't they get that the news-section and the respective facebook-posts are a figurehead for a.net?